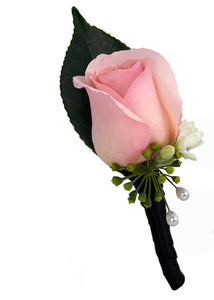 What am I?
I am that little bit of detail to go on the suit jacket and add a bit of wow for those who aren't holding a bouquet.
Why choose me?
I am the perfect touch of flower for a groom, groomsman, MC, father of the bride/groom and anyone else that bit more special than the rest of the guests!
*** Size featured in image is the Groom. The 'Other' is a similar size, but features less detail.
Remember:
By selecting me, you are placing full faith in my creator and understand my materials differ year round depending on availability. The image above is simply a reference for colour and shape. Refunds are NOT available.